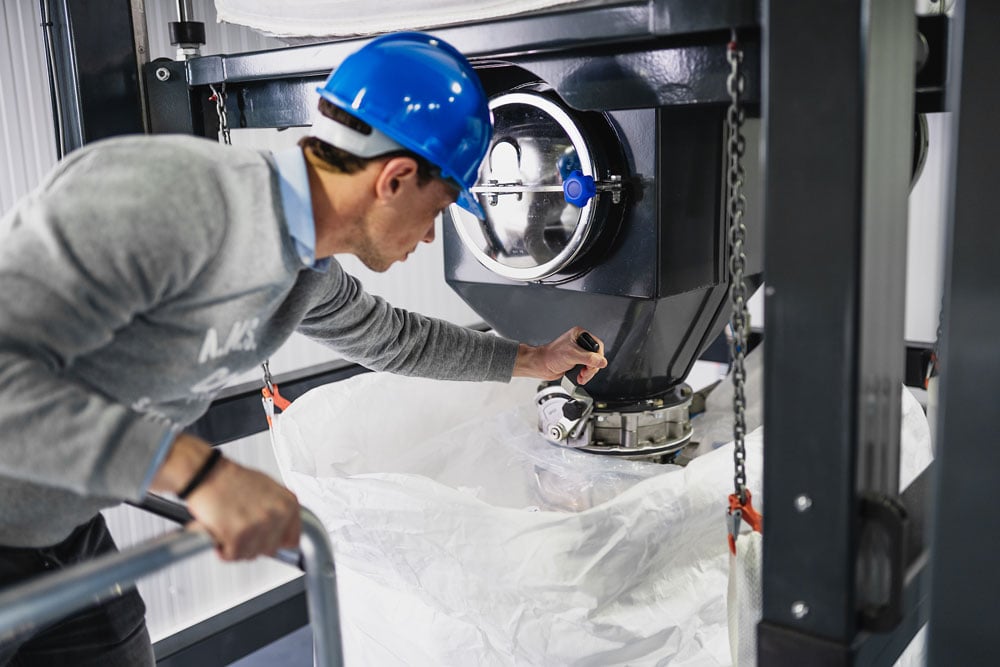 A good packaging solution is more than just the package. To optimally protect the product inside, there are many factors to consider. Here at Masterpack, the process of packaging your products is designed to achieve the best results for your product.
Step 1. Cleanrooms
With Modified Atmosphere, we can thoroughly control the environment within the packaging. But it starts with what's outside of it. To optimally protect your product from any form of contamination, our bulk packaging is produced in Class 100.000 or 10.000 Cleanrooms, excluding as many risks of contamination as possible. Cleanrooms are controlled environments with a low level of pollutants such as dust, airborne microbes, chemical vapors, and aerosol particles. Cleanrooms are classified by how clean the air is. Cleanrooms have a controlled level of contamination that is specified by the number of particles per cubic meter for specified particle size. This means that a Class 10000 Cleanroom allows a maximum of only 10000 particles 0.5 microns* in size in a cubic foot of air.
*A micron is one-millionth of a meter.
Step 2. Modified Atmosphere
Modified Atmosphere covers multiple aspects of packaging benefits. Not only does it keep your product protected from external influences and pests - it also lengthens the shelf life, amongst others. Read more about Modified Atmosphere and its pro's in this blog.
Step 3. Sensor Spot
Once your product has been wrapped and packed, it is desirable to monitor the gasses within the packaging. Until recently this was impossible to do without opening or damaging the integrity of the packaging film. But now, there is the Sensor Spot technology, which enables us to measure the oxygen content inside the package repeatedly, without opening or damaging the packaging film. This technique, using a fluorescence signal, is non-invasive and allows us to monitor the oxygen level throughout the whole supply chain.
Looking for the best partner to protect your product? We've got it all covered, from Cleanroom to supply chain. Get in touch with our team of experts to learn more about the benefits of working with Masterpack - the leader in innovative packaging solutions.