Oxygen inside the packaging of food or beverages can lead to oxidation of the product causing rancidity or product deterioration. The optimal oxygen storage levels can vary depending on the packed product. Using the Masterpack Modified Atmosphere technique, you can control the composition of the gas atmosphere within the packaging. This mostly means reducing oxygen levels and other gasses to create the right conditions for prolonged shelf life for any product. However, controlling the gas composition after filling is not only about putting the right gas mixture in, it also means keeping it optimal for prolonged periods.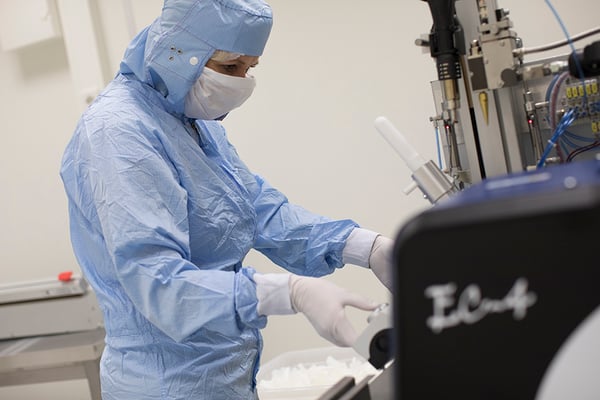 Sensor Spot
After applying the right gas mixture, it is desirable to monitor the gasses within the packaging. Until now monitoring was not possible without opening or damaging the integrety of the packaging film, but with the development of the Sensor Spot technology it is now possible to measure the oxygen content inside the package over and over again, without opening or damaging the packaging film. But, with the Sensor Spot technology, it can be done. Not only is this technique non-invasive, but it also allows to monitor and find in the gas mixture during the whole transport chain, keeping your products completely safe. A completely sealed FIBC not only can control the gas mixture inside the bag, it also prevents contamination of your product with chemicals or pests.
No holes, no waste
Because the packaging material is left 100% intact, the quality inside remains preserved and the packed goods will be protected from contamination risks and oxygen from the outside.
Leaving the packaging intact using the non-invasive Sensor Spot technology, products stay protected from external factors. In addition, all our bulk packaging is produced in Class 10000 Cleanrooms, excluding risks of contamination and pests. Preventing any unwanted quality-loss of products is key in creating a sustainable supply chain by minimizing waste due to product spoilage.
Are you interested in learning more about our innovative techniques for packaging? Our high-end solutions can be tailor-made to your circumstances. Get in touch with our experts or read more about our work in our blog and whitepapers.