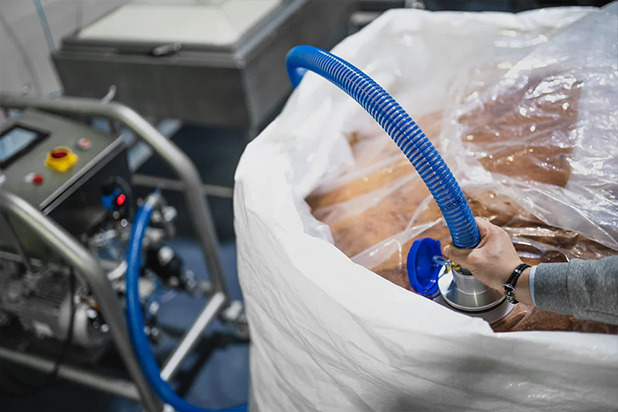 In the world of packaging, bigger often is better. In the 1940s, the Flexible Intermediate Bulk Container was introduced, also known as the FIBC or Big Bag. Their forerunners were made from PVC and mainly used by rubber industry companies for the transport of black carbon. Since then, the use of big bags has spread many other industries due to the development of the packaging and its possibilities in the years that followed.
The popularity of FIBCs has been growing exponentially ever since. Big bags are an ideal solution for the temporary storage and transportation of dry bulk goods, such as powders. But what other factors make these big bags so great? In this blog, we highlight 5 of the advantages of FIBCs.
1 It saves money and space...
It is one of the cheapest systems for packaging, bringing a significant cost saving. There is no need for a secondary container because the product is already contained and protected. It saves usable storage space as it is stackable and barely has a volume of its own.
2 ...And time!
Want to speed up filling and emptying operations? The use of FIBCs enables this. Thanks to specialized machines and techniques adapted to this specific kind of packaging, filling, and emptying can be done relatively quickly.
3 It optimizes handling and transport
Big Bags can transport up to 300 times their weight. In addition, they are easy to handle: FIBCs have integrated elevation loops, so it's not necessary to use any external transport or handling device, and it avoids the need of using pallets or another type of loading unit.
4 Very versatile
Of course, there are standard models in big bags, but it is also possible to make a tailor-made FIBC for a specific product or client to cover any special packaging need. FIBCs can be printed, which is not only great for marketing purposes, but also for information regarding the product or handling or transporting instructions.
5 It's environmentally friendly
Not only is the use of secondary packaging material unnecessary, but there are also more reasons why FIBCs are a sustainable solution. Big bags are reusable and in most cases, its raw material is recyclable.
How can we help?
Looking for one of the biggest leaders in packaging solutions and want to discover more about big bags and their possibilities? Masterpack is here to help. Get in touch with our experts to see what we can do for you!